WHEN THE BIGGEST MEDICAL EQUIPMENT MAKERS HAVE SUPPLY ISSUES
THIS IS HOW WE KEEP THEM ROLLING
This firm had been purchasing casters direct from another manufacturer when they experienced significant delivery, engineering, and customer service issues.

Through our initial discovery, Linco found out that the design firm wanted to integrate a complicated central locking system into a new design. In addition they were going to need the caster bodies painted in a custom pantone that matched the device's skin.
Once we learned the form, fit, and function of their design...
WE GOT TO WORK!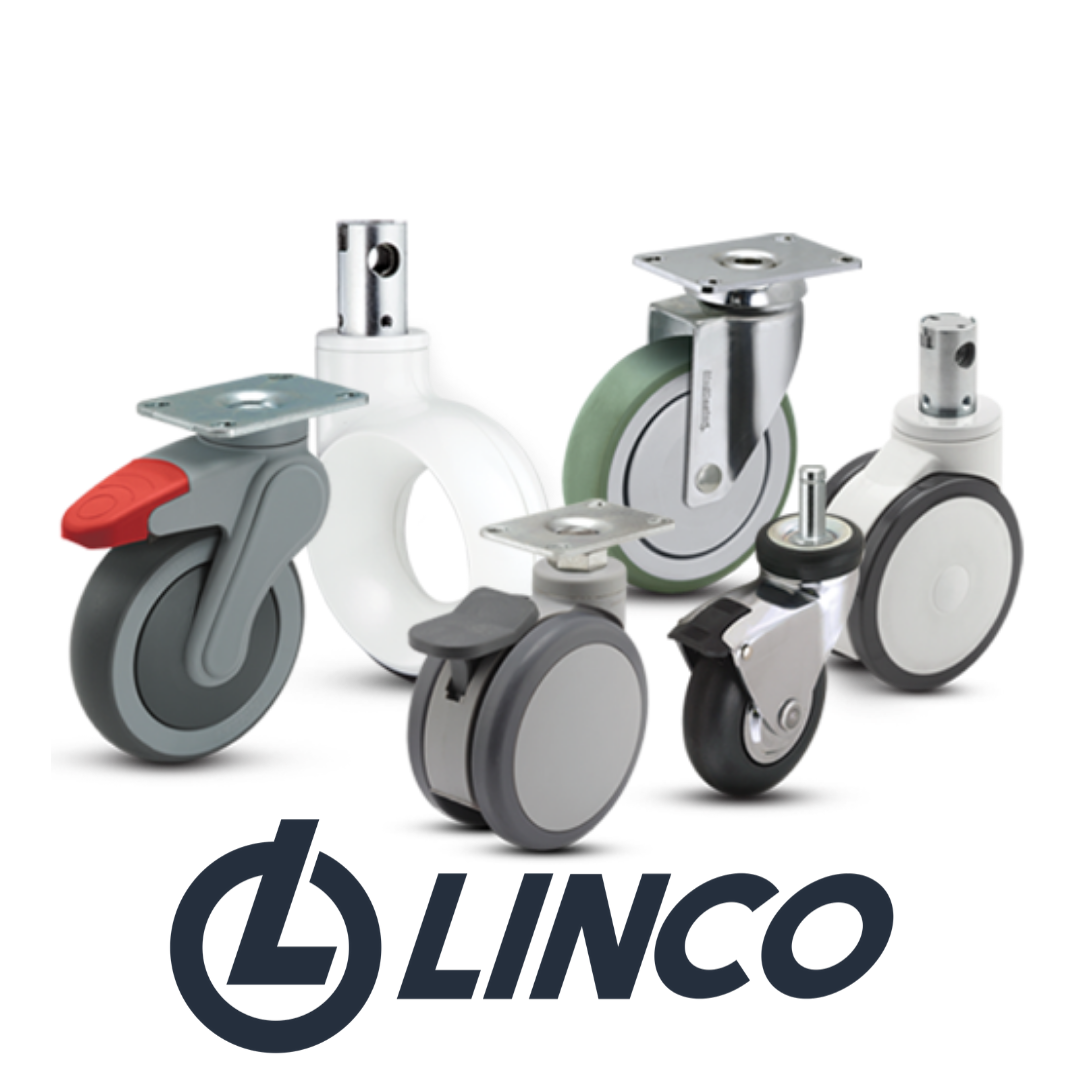 Linco strategically partnered with Colson Group UK on this particular project.

We were able to spec in a Colson Twintech ultimate Solus . After our customer's R&D put the casters through rigorous testing, of course!

We also designed custom machined linkage for their locking system.

Our knowledgeable outside sales reps were instrumental in assisting the customer with the engineering of the locking system.
WHY WE CHOSE THE CENTRAL LOCKING TWINTECH ULTIMATE SOLUS:
125MM Twin wheel Total Lock castors provide a stabile floor contact, and can climb obstacles such as door thresholds without unnecessary force.

Pressure die cast aluminium body for light weight and high load capacity

Polyurethane Anti-Static Wheels with precision ball bearings provide a quiet, cushioned ride. The anti static wheels provide a level of cleanliness and sanitation for a sterile surgical environment.

Combination Central Locking System provides Total Lock, Directional Lock, and Free Swiveling options in one caster. One foot pedal controls all casters in the system. You can lock the entire system with the tap of your foot!

Low rolling friction and force to initiate motion
After the design was approved and completed, the Design Firm handed off the finished product to their customer - A large medical device company.

Linco's sales worked out a custom tailored inventory program to help keep the end users inventory burden low, and operating capital high.

For us this success story highlights our ability to take a product from the concept phase, and work with our customers through the various phases of R&D, Design, & Production.

No matter the field you are in, or the type of product you are designing, If you need a custom engineered solution tailored to your company and product we are here to help.

Call, email, or chat with us at: SHOPLINCO.COM